Exhibition Stand Builders In Kuwait
StandsBay is a leading exhibition stand designing company and stall fabrication contractor in Kuwait. We offer comprehensive services to help our clients create exhibition stands that make a lasting impression.


Reputed Exhibition Stand Designers And Fabricators in Kuwait
YAY! We are Here To Help!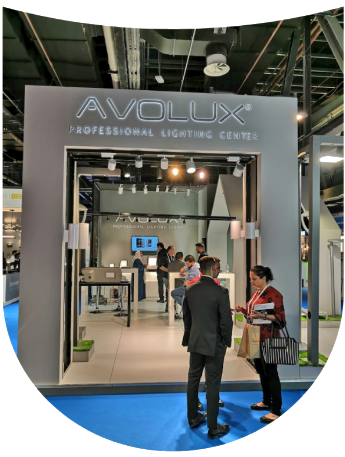 StandsBay is proud to offer a team of professional stand designers and fabricators in Kuwait with many years of experience. Our team is dedicated to providing high-quality, customized stands that meet your needs.
Every brand has unique requirements, so we work closely with you to understand your brand message and objectives. Our designers use the latest technology to create 3D designs and renderings that allow you to see how your stand will look before the fabrication begins.
Our fabricators are highly skilled and experienced in using a wide range of materials to create durable and visually stunning stands. From wood to metal to glass, we use only the best materials to ensure that your stand is of the highest quality.
We pride ourselves on our attention to detail, so we ensure that every stand we create is rigorously tested to meet our exacting standards. Our project managers work closely with you throughout the process to ensure your stand is delivered on time and within budget.
At StandsBay, a great stand is more than just a collection of materials; it reflects your brand and message. That's why we are committed to creating stands that look great and effectively communicate your message to your target audience.
Contact us today to discuss your stand design and fabrication needs, and let our team of professionals help you create a stand that stands out from the competition
Have a look to our Our Exhibition booth Portfolio In Kuwait

Idea Exchange
We listen to your ideas and understand your needs.

3D Design
We make your ideas true in 3D visuals.

Fabrication
One Platform for all the process and designs.

Transport
Stands transportation facility and national delivery

Build & Install
We build your stands at the committed time and ensure smooth opening.

On-Site Management
Our pro technicians supervise all the on-site management.

Dismantle & Storage
Efficient exhibition-show clean-up and stock management.
Why Choose Us As Your Exhibition Stand Builders in Kuwait?
We make Exhibition Booth into Lime Light
We are a professional team of exhibition stand builders in Kuwait. With years of experience in the industry, we are known for providing top-quality exhibition stands that stand out from the competition.
Our stand designers and fabricators are experts at creating custom exhibition stands tailored to our client's unique needs and requirements. We take pride in our attention to detail and ensure that each stand is built to perfection with high-quality materials and finishes.
As exhibition stand contractors, we work closely with our clients to understand their goals and objectives for each event. This enables us to create a stand that effectively communicates its brand message and attracts the right audience.
Our services also include exhibition stand design companies in Kuwait, providing clients with a range of design options to choose from. We understand the importance of choosing the right design for your business, which is why our team works with you to create a stand that aligns with your brand image and values.
Whether you are looking for exhibition booth builders or stall fabrication contractors in Kuwait, Stands Bay is your go-to partner. We provide top-quality exhibition stands within your budget and timeframe, delivering excellence every time.
So, if you are looking for professional exhibition stand builders in Kuwait, look at Stands Bay. Contact us today to discuss your requirements, and let us help you create an unforgettable exhibition experience for your business.
We are leader in building a Exhibition stand in Kuwait
We are a leading company in Kuwait for building exhibition stands. Our professional team has years of industry experience and is dedicated to providing our clients with the highest quality of services. We understand that every business has unique requirements, so we offer customized solutions tailored to meet our client's specific needs. Our commitment to quality and customer satisfaction has made us a trusted name in the exhibition stand industry in Kuwait.
Locations we serve our
Exhibition Stands/booth in GCC
The popular Locations are progressively below..
Exhibition Stand contractors In Kuwait
We are a team of Exhibition Stand Contractors in Kuwait that specializes in providing top-quality stands for various events and exhibitions. Our experience and expertise in the industry make us a reliable partner for businesses looking to make a statement at their next trade show or event.
We understand that every business has unique requirements for its exhibition stands, which is why we offer customized solutions tailored to your specific needs. From concept and design to fabrication and installation, we take care of every aspect of the process, ensuring you get a stand that stands out and effectively showcases your brand and products.
Our team comprises skilled professionals who use the latest technologies and materials to create visually appealing, functional, and durable stands. We ensure that the stands we build are visually stunning and practical and can be easily set up and dismantled.
We believe in providing our clients the best possible service, so we work closely with them throughout the process. We communicate regularly with our clients, keeping them informed at every stage of the process and ensuring we meet all their requirements.
If you're looking for a reliable partner to handle your exhibition stand needs in Kuwait, Stands Bay is the company to call. Our commitment to excellence, attention to detail, and customer-centric approach have made us one of the leading exhibition stand contractors in the country. Contact us today to discuss your project and see how we can help.