Exhibition Stand Builders In Essen, Germany
Exhibition Stand Builders in Essen, Germany: Creating Remarkable Stands for Your Success
Experienced and Professional Installation Team
We pride ourselves on being Essen's premier exhibition stand builder service provider. Our team of experienced professionals is dedicated to creating customized and visually stunning exhibition stands that will help our clients stand out from the competition. As a full-service exhibition stand builder, we offer a wide range of services to ensure that every aspect of your exhibition stand is taken care of. From designing and building to installation and dismantling, we handle every process step with precision and care.

One of the key factors that set us apart from our competitors is our ability to create bespoke exhibition stands tailored to each client's individual needs. We understand that every business is unique, so we take the time to get to know our clients and their brand to create a stand that truly represents them. We are committed to using the latest technology and materials to create exhibition stands that are not only visually stunning but also practical and functional. Our team of experts is constantly researching and testing new materials and techniques to ensure our clients receive the best possible service.
Why Choose Standsbay for Your Exhibition Stand in Essen?
Customized Design: 
We acknowledge that every client has distinct needs and objectives for their exhibition stand. That's why they collaborate closely with you to develop a personalized design that embodies your brand and fulfills your specific requirements. This way, your stand will distinguish itself and leave a lasting impact.
Top-notch Materials:
We utilize only the finest materials for their stands, ensuring they are both visually appealing and robust enough to endure the demands of an exhibition. You can have confidence that your stand will look exceptional and perform flawlessly throughout the event.
Prompt Delivery:
Time is of the essence when it comes to exhibitions, and We recognize this. They put in extra effort to guarantee that your stand is always delivered on schedule. As a result, you won't have to worry about any delays or setbacks.
Comprehensive Service:
From design to installation, We provide a comprehensive service that handles every aspect of your exhibition stand. This lets you concentrate on what you do best – showcasing your products and services. you can be confident that everything will be handled.
Competitive Pricing:
We comprehends that budgets can be tight, particularly for smaller businesses. That's why they offer competitive pricing for their exhibition stand construction services in Essen. You can obtain a high-quality, tailor-made stand at a reasonable price without compromising quality or service.
Exhibition Stand Contractors in Essen: Your Reliable Partner for Successful Exhibits
When you choose Standsbay, you can trust that we will provide a comprehensive service that covers all aspects of the exhibition stand design and build process. We start by conducting an in-depth analysis of your brand, products, and exhibition venue to ensure we create a stand that optimizes your visibility and engagement with your target audience. Our expert designers use the latest technology and software to create a 3D rendering of your stand, giving you a precise visualization of how it will look before we build it. Once you approve the design, our experienced contractors start building your stand, using only the highest quality materials and equipment to ensure that it is visually stunning but also safe and secure. Throughout the process, our project managers work closely with you, providing regular updates and ensuring that everything is on track for a successful exhibition.
We know that exhibitions can be stressful, so we offer a comprehensive range of additional services to make your life easier. From logistics and transportation to installation and dismantling, we take care of everything, leaving you free to focus on showcasing your brand and products to your target audience. We are committed to delivering a service that exceeds your expectations. We take pride in our work and are passionate about creating exhibition stands that leave a lasting impression. Our reputation speaks for itself, and we have built a loyal client base who consistently choose us for their exhibition needs.
Why Choose Standsbay?
There are many reasons why Standsbay is the right choice for your exhibition stand contractors' needs in Essen. Here are just a few:
Experienced Professionals:
Our team has years of experience in the exhibition stand industry, and we know what it takes to create stands that stand out from the crowd.
Custom-Designed Stands:
We understand that every brand is unique, so we offer custom-designed stands that reflect your brand's personality and values.
High-Quality Materials:
We use only the best materials and the latest technology to ensure your stand is of the highest quality.
Excellent Customer Service:
We pride ourselves on providing excellent customer service, and we will work closely with you throughout the process to ensure your needs are met.
Competitive Pricing:
We offer competitive pricing without compromising on quality, ensuring you get the best value for your investment.

Idea Exchange
We listen to your ideas and understand your needs.

3D Design
We make your ideas true in 3D visuals.

Fabrication
One Platform for all the process and designs.

Transport
Stands transportation facility and national delivery

Build & Install
We build your stands at the committed time and ensure smooth opening.

On-Site Management
Our pro technicians supervise all the on-site management.

Dismantle & Storage
Efficient exhibition-show clean-up and stock management.
Exhibition Stand Design in Essen, Germany: Unleashing Creativity for Impactful Exhibits
We make Exhibition Booth into Lime Light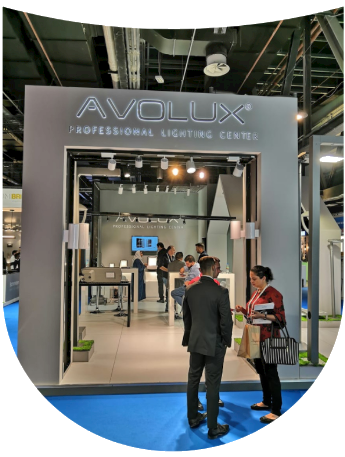 Standsbay is a renowned provider of top-notch exhibition stand design services in Essen. Our highly skilled and creative design team is committed to delivering outstanding exhibition stand designs that will captivate your target audience and help you achieve your business goals. We understand that each client has unique requirements and preferences. Therefore, we offer personalized services tailored to your specific needs. Our team collaborates closely with you to understand your brand, target audience, and exhibition objectives, ensuring we deliver a custom exhibition stand that meets your exact specifications and exceeds your expectations.
Our designers are experts in their field, with extensive experience designing exhibition stands for clients across diverse industries. They stay up-to-date with the latest design trends and technologies, ensuring your stand looks visually stunning, practical, and functional. We use advanced design software to create 3D renderings of your stand, allowing you to visualize the final product before it is built. The design services we also offer project management and installation services. Our team handles every aspect of the exhibition stand build, from the initial design to the final installation. We understand the importance of time in exhibitions and work efficiently to ensure that your stand is constructed on time and to the highest quality standards.
Our Services
we offer a wide range of exhibition stand design services to suit every need and budget. Some of our services include:
Modular Exhibition Stands:
Modular exhibition stands offer businesses a flexible and cost-effective solution for exhibiting at trade shows and events. They can be easily configured and customized to suit specific requirements, and they are lightweight and easy to assemble, making them a popular choice for businesses of all sizes. We offer a wide range of modular exhibition stands that are designed to help businesses make a big impact at their events.
Portable Exhibition Stands:
Portable exhibition stands are designed to be lightweight, compact, and easy to transport. They are a great option for businesses that need to exhibit at multiple events or have limited storage space. We offer a variety of portable exhibition stands that are customizable to suit specific requirements. Our portable stands are easy to assemble, and they come with carrying cases for easy transportation and storage.
Exhibition Stand Rental:
Exhibition stand rental is a cost-effective solution for businesses that want to exhibit at trade shows and events without investing in a permanent stand. We offer a range of exhibition stands for rent that can be customized to suit specific needs. Our rental stands are designed to be easy to install and dismantle, and we offer professional installation services to ensure that your stand is set up correctly.
Exhibition Stand Installation and Dismantling:
Setting up and dismantling an exhibition stand can be time-consuming and stressful. We offer professional installation and dismantling services to help businesses make the most of their exhibition space. Our experienced technicians take care of all aspects of installation and dismantling, from transporting the stand to the event venue to setting it up and taking it down at the end of the event. This allows businesses to focus on preparing for the event and engaging with visitors.
Exhibition Stand Maintenance and Support:
Exhibition stands require regular maintenance to ensure that they remain in good condition and perform as intended. We offer comprehensive maintenance and support services to help businesses keep their stands looking and functioning their best. Our team of experts can provide everything from minor repairs to major overhauls, and we offer training and advice to help businesses get the most out of their exhibition stands. With our maintenance and support services, businesses can be confident that their stands will make a great impression at every event.
Exhibition Booth Builder in Essen, Germany: Crafting Remarkable Booths for Your Success
We understand the importance of having a visually stunning booth that effectively showcases your brand and products to your target audience. That's why we take the time to understand your brand, message, and goals for the event. This enables us to create a custom-designed booth that effectively showcases your products and services, from the initial concept to the final installation. Our team utilizes the latest technology and state-of-the-art equipment to design, build, and install custom exhibition booths of all shapes and sizes. We tailor our booth styles and configurations to fit the unique needs of every client, whether it's a small, portable booth or a large, custom-built display.

We know it's essential to deliver a visually appealing, visually appealing but also durable and long-lasting booth. To achieve this, we only use the finest materials and skilled craftsmen to create your booth. Our commitment to quality ensures that our clients receive exceptional results that exceed their expectations. Our reputation as one of Essen's leading exhibition booth builders speaks for itself. We have a proven track record of delivering exceptional results that exceed our client's expectations. That's why many businesses in Essen trust us as their go-to choice.
Why Exhibit at Trade Shows?
Trade shows are an excellent opportunity for businesses to showcase their products and services to a targeted audience. They allow companies to interact with potential customers face-to-face, which can lead to building long-term relationships and generating new leads. Trade shows also provide businesses with an opportunity to learn more about their competitors, as well as the latest trends and developments in their industry.
Exhibiting at a trade show can enhance a company's brand awareness, increase its visibility, and boost its credibility. It provides businesses with a platform to display their products and services to a wide range of potential customers interested in learning more about their offerings.
Exhibition Stall Fabricator in Essen, Germany: Crafting Memorable Stalls for Your Success
To Help You Grow Your Business!
We pride ourselves on providing comprehensive exhibition booth fabrication services in Essen that meet our client's unique needs and requirements. Our experienced team is skilled in designing, fabricating, and installing custom-built booths that are visually appealing, functional, and durable. We work with you every step of the way to ensure that we create a booth that reflects your brand's message, vision, and values.

Our competitive pricing ensures that you get the best possible value for your money, while our commitment to timely delivery ensures that your booth is ready when needed. Whether you need a booth for a trade show, exhibition, conference, or any other event, we have the expertise and experience to deliver a booth that meets your specific needs and exceeds your expectations. With our sustainable practices, you can rest assured that we take our responsibility to contribute to a sustainable future seriously and work hard to minimize our environmental impact. We are committed to providing our clients with the highest quality exhibition booth fabrication services in Essen.