Exhibition Stand Builders In Cologne, Germany
Choosing the Best Exhibition Stand Builders in Cologne, Germany
Experienced and Professional Installation Team
Standsbay has established itself as a leading exhibition stand builder in Cologne, Germany, with a stellar reputation for delivering exceptional stands that exceed clients' expectations. With years of experience in the industry, Standsbay has honed its expertise and perfected its craft, making them the go-to choice for businesses looking to make a powerful impact at exhibitions. In the competitive world of exhibitions, having a standout and professionally designed stand is paramount. We are the leading exhibition stand builder in Cologne, Germany, and offer a comprehensive range of services, including innovative design, customization options, impeccable craftsmanship, and efficient project management. Our collaborative approach, competitive pricing, and commitment to sustainability make them the preferred choice for businesses seeking to make a lasting impact at exhibitions and trade shows.
Exhibition Stand Contractor in Cologne: Your Partner for Success
Looking for a reliable exhibition stand contractor in Cologne? Look no further! We are your trusted partner in creating exceptional exhibition stands that captivate audiences and drive success for your brand. At our core, we understand the power of a well-designed and strategically executed exhibition stand. That's why we collaborate closely with you to understand your brand identity, target audience, and exhibition goals. This enables us to create a stand that visually represents your brand, engages visitors, and promotes your products or services. As your dedicated exhibition stand contractor in Cologne, we handle all the logistics, including stand fabrication, logistics management, and on-site installation. We aim to alleviate the stress and complexities of exhibition planning, allowing you to focus on connecting with potential customers and achieving your business objectives.

Idea Exchange
We listen to your ideas and understand your needs.

3D Design
We make your ideas true in 3D visuals.

Fabrication
One Platform for all the process and designs.

Transport
Stands transportation facility and national delivery

Build & Install
We build your stands at the committed time and ensure smooth opening.

On-Site Management
Our pro technicians supervise all the on-site management.

Dismantle & Storage
Efficient exhibition-show clean-up and stock management.
Exhibition Stand Designer in Cologne:Turning Your Vision into Reality
We make Exhibition Booth into Lime Light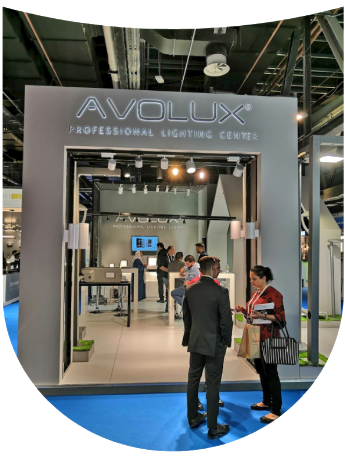 If you're seeking an exceptional exhibition stand designer in Cologne, Germany . StandsBay is here to transform your vision into a stunning reality. With our creative expertise and commitment to excellence, we specialize in crafting captivating and impactful exhibition stands that leave a lasting impression.
At StandsBay, we understand that a well-designed exhibition stand is key to attracting and engaging visitors, as well as effectively communicating your brand message. Our team of skilled designers in Cologne possesses a deep understanding of the power of design and its ability to create immersive experiences. Every detail of the design is carefully considered, from the overall layout and structure to the selection of colors, graphics, and interactive elements. Our goal is to create an immersive and memorable experience that captures the attention of visitors and leaves a lasting impression of your brand.
Exhibition Booth Builder in Cologne:Creating Remarkable Booths
When building great exhibition booths in Cologne, StandsBay is the name you can trust. As a premier booth builder, we specialize in creating exceptional booth designs that make a lasting impact on your target audience.
At StandsBay, we understand that your booth is a powerful marketing tool representing your brand and attracting potential customers. With our expertise and attention to detail, we bring your booth vision to life, ensuring it stands out from the crowd and effectively communicates your message. We pay meticulous attention to every aspect of the booth, including layout, flooring, lighting, signage, graphics, and interactive elements. We aim to create a booth that captures attention, engages visitors, and provides a memorable experience.
As your dedicated exhibition booth builder, we manage the entire process, from conceptualization and design to fabrication, installation, and dismantling. We understand the importance of a seamless exhibition experience, and our team works diligently to deliver your booth on time and within budget.
What Makes StandsBay a Leading Exhibition Stand Builder in Cologne?
To Help You Grow Your Business!
What sets StandsBay apart as a leading exhibition stand builder in Cologne is our unwavering commitment to excellence, creativity, and client satisfaction. With a strong reputation in the industry, we have become a trusted partner for businesses seeking exceptional exhibition stands.
One key factor that distinguishes StandsBay is our extensive experience in the field. Over the years, we have completed numerous projects in Cologne, showcasing our expertise and ability to deliver outstanding results. Our team of skilled professionals understands the intricacies of the exhibition landscape and possesses the knowledge and skills to create stands that make a significant impact.
Innovation is at the core of our approach. We believe in pushing boundaries and exploring new design possibilities. Our talented designers combine artistic flair with strategic thinking to create captivating and immersive stands that leave a lasting impression on visitors. By staying abreast of the latest trends and technologies, we ensure our stands are at the forefront of innovation.
Locations we serve our
Exhibition Stands/booth in Germany
The popular Cites are progressively below..